Flow Chart and Isolation Calculator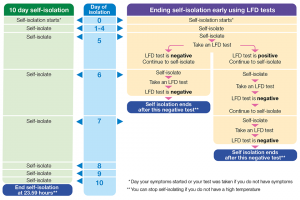 Primary Testing and Clinical Supply and Workforce Guidance
Local Authority Coronavirus FAQs
The Local Authority have pulled together some answers to questions they have been asked about what you should do, and what they are doing, to respond to Coronavirus.  This can be found here.
Symptom Summary
The following documents have been produced by Nottingham City Health and Safety Services:
Symptom Summary Flow Charts
Really helpful guidance from schools regarding what to about advising parents in the event of a suspected or confirmed case of Covid-19 is attached below:
PHE Action Cards
Coronavirus Testing
Schools have been issued with guidance on testing and the advice for parents and teachers. It is very important that this guidance is followed. Schools should not advise pupils or teachers to take a test unless they exhibit one or more of the listed symptoms. If there is a confirmed case then schools should not advise entire classes or year groups to get tested. Only those with symptoms or those advised by their clinician or Local Authority should get a test. Schools must not require students to provide evidence of a negative test before letting them back to school. https://www.gov.uk/government/publications/letter-from-phe-and-nhs-test-and-trace-to-school-and-college-leaders/letter-from-phe-and-nhs-test-and-trace-to-school-and-college-leaders
10 test kits should have been sent to your school in September.
Ordering additional test kits
The portal will open for you to apply for more test kits on the 16 September, via this link: https://request-testing.test-for-coronavirus.service.gov.uk.
Kits will be supplied in boxes of 10. The number of boxes available to each school or FE provider will be proportionate to your size. You will be able to make a new order for coronavirus test kits 21 days after you receive a delivery confirmation email telling you we have sent your kits.
Confirmed Coronavirus cases – what to do
Instead of calling local health protection teams when there is a confirmed case, education settings above are now asked to call the DfE's helpline on 0800 046 8687 and select the option for advice following confirmation of a positive case. The line will be open Monday to Friday from 8.00am to 6.00pm, and 10.00am to 4.00pm on Saturdays and Sundays.
Mellers Covid Outbreak Response
This is a really useful tool to have to hand to help you should you get a confirmed case at your school.
PHE Model Letters and Risk Assessments
David Thompson has also given us the letters from PHE as well as the Risk Assessment conducted by the school following a confirmed case.  These are included below:
PHE – Draft script for the public health management of confirmed cases including multiple cases in schools