We felt it would be helpful to have details of the whole SSIF 2 Maths programme offer in one place, so that schools can view the entire offer:
SSIF PROGRAMME OFFERING BOOKLET v4 (final)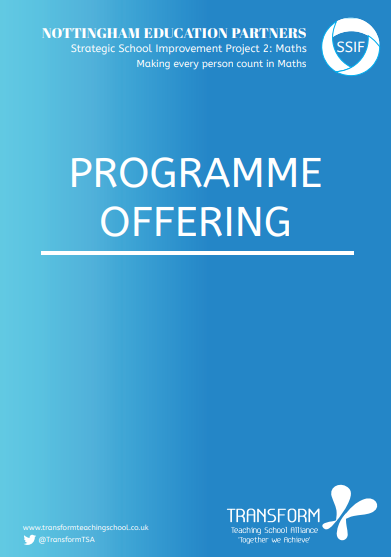 Details of all sessions have been added to the NST events calendar.  Flyers for each course have also been included (where available), containing further details of the course content.
Spaces on the following courses have been opened up to ALL NST SCHOOLS, and as at 05/12/18 the following spaces are available:
Course
Date
Time
Location
Facilitator
Places Remaining
KS2 to 3 Transition Lesson Study Workgroup
10 January 2019
9.00am – 12.30pm
Venue tbc

Marc North

15 spaces
Getting to Grips With Algebra
11 January 2019

9.00am –

12.30pm

Transform
Danielle Wood-Wallace
19 spaces
Maths Mastery in the Early Years – a focus on transition from F2 to Y1
21 January 2019
1.00pm – 4.00pm
Nottingham Nursery School
Jane Gill
9 spaces
Strategies for Teaching Fractions at KS1
31 January 2019

1.00pm – 4.00pm
Mellers Primary School
Jane Gill

5 spaces

Getting to Grips with Modelling and Scaffolding Maths Concepts Effectively
27 February 2019
9.00am – 3.30pm
Transform
Rachel Meli and Jacqui Trowsdale
 15 spaces
If you have any queries or if you would like book on any of the courses listed, please email: Katie.felstead@transformtrust.co.uk, or call 07871 960654.